Address
Mitsumoricho 170-1, Higashiyama-ku, Kyoto, Japan
* It's across the south of Rokuharamitsuji Temple.
Location
Unoan is ideally situated in Higashiyama area which has many famous sights such as Kiyomizudera Temple and a downtown called 'Kawaramachi'. The house stands across from the southern side of Rokuharamitsuji Temple at 'Rokuhara' in Higashiyama area, which makes it so easy for you to spot the place. Rokuhara is a place well known by Taira no Kiyomori who was the leader of samurai in the 12th century.
You can walk around Kiyomizudera Temple which is registered as the World Heritage site. Other popular tourist sites such as Kenninji Temple, Yasaka Shrine, Maruyama Park are also fantastic places to visit. Sanjusangendo Temple, the longest wooden building is also a great spot to visit. There are other famous sights in Higashiyama. It offers the best location to enjoy sightseeing, dining and shopping. Since it is situated within walking distance to Gion area, you might see geisha girls come and go around Nishiki Market and Pontocho in Kawaharamachi area.
It is easy to travel from the Keihan Kiyomizu-Gojo Station nearby Unoan to Fushimi Inari Shrine where you can see a lot of 'torii' (sacred red gate of a shrine) and the World Heritage, Shimogamo Shrine. You can visit a variety of places which are registered as World Heritage such as Nijojo Castle, Kinkakuji Temple and Ginkakuji Temple by bus.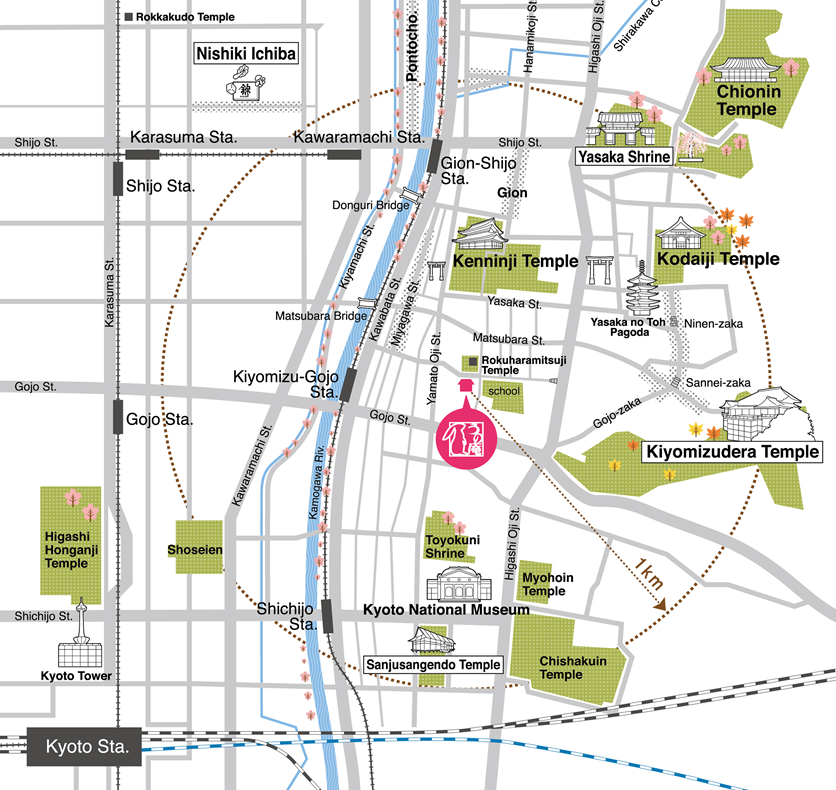 Nearest station
Keihan Railway line Kiyomizu-Gojo Station. Unoan is 8 minutes' walk from exit #4.
Hankyu Railway line Kawaramachi Station. Unoan is 18 minutes' walk from exit #1.
Kyoto City Bus Gojo-zaka Stop. Unoan is 7 minutes' walk.
From JR Kyoto Station
[Taxi]
Please tell the driver to go to Rokuharamitsuji Temple. (10min. About 10 USD)
[Train]
From JR Kyoto Station take the Nara line to Tofukuji Temple Station, then take the Keihan Railway line to Kiyomizu-Gojo Station. (25min. About 2USD)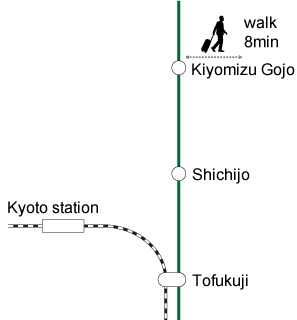 From Subway Kyoto station take the Karasuma line to Shijo Station, then take the Hankyu Railway line to Kawaramachi Station. (15min.About 3USD)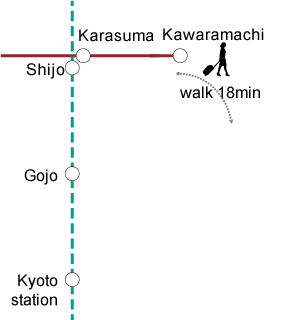 [Bus]
Step out form Karasumaguchi exit at JR Kyoto station and you will find the Kyoto-ekimae Bus Stop. All the following buses go directly to Gojo-zaka stop. (15min. About 2USD)
No. 100 bound for Kiyomizudera, Gion and Ginkakuji (Platform D1)
No. 206 bound for Higashiyamadori and Kita Oji Bus terminal (Platform D2)
By Car
Unoan is close to the Gojo Ohashi.
About 7 km from the Meishin Kyoto Higashi Interchange.
About 7.5km from the Meishin Kyoto Minami Interchange.
*There is no parking available at Unoan, so please use a coin-operated parking around the accommodation.