About Unoan
Unoan is a 100-year old machiya that has been beautifully renovated into a luxurious accommodation for short stays. You can rent the whole house for more than one day, allowing you to fully relax and enjoy the experience. Kyoto machiya are the traditional residences of Kyoto merchants. Normally their front business area has a long hallway that leads to the kitchen and eventually to the small garden. The outside of the buildings are covered with white lime plaster that has slit windows.The area of the house, Mitsumori used to be called Izumidono, which is a name of a famous leader of samurai, Taira no Kiyomori. This means that Unoan is built on the site of his residence.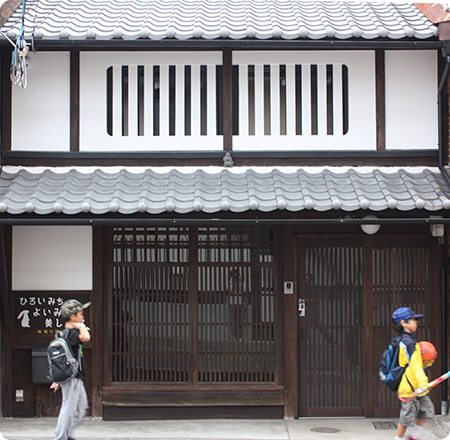 Location
Unoan is across the street from Rokuharamitsuji Temple. Located in Higashiyama area where many of Kyoto's cultural heritage sites remain. Unoan is in an excellent location with easy access to popular sightseeing spots such as historical Gion area, Yasaka Shrine, Kiyomizudera Temple, Sanjusangendo Temple, and Fushimi Inari Shrine. You can also easily visit the World Heritage, Nijojo Castle, Kinkakuji Temple, Ginkakuji Temple and Shimogamo Shrine by train and bus. The main shopping areas, department stores and the Pontocho dining and entertainment district are all within easy walking distance.
Facilities & Amenities
You can cook at the kitchen and wash clothes.
Coffee, Japanese tea and water are free of charge.
You can also enjoy going out by bicycle.
●

Coffee

●

Japanese tea

●

Water

●

Fridge

●

Microwave

●

Toaster

●

Induction cooker

●

Tableware

●

Three bicycles
●

Shampoo, rinse

●

Body shampoo

●

Hand soap

●

Hair dryer

●

Bath towels

●

Face towels

●

Washer and dryer
Nightwear, toothbrushes, toothpaste, razors, hairbrushes, cosmetics are NOT provided. Unoan is not a hotel. We do not provide meals. Japanese futons are prepared.
We have a Windows laptop and Wi-Fi connection. Your IT devices such as laptops, iPad, iPhone - may also be able to get Wi-Fi connection.
Floor Plan